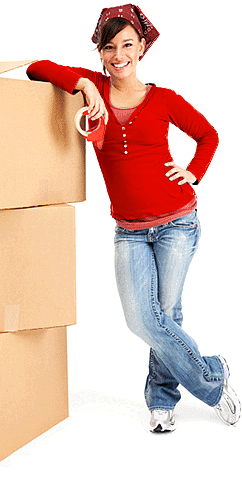 We have almost every conceivable box or carton possible for packing, moving, storing or shipping.
Moving Tip
Use fragile stickers to identify those boxes that need special care.

Identify contents of each carton for easy unpacking.
Use fragile stickers to identify those boxes that need special care.
Blankets and linens are best moved in larger cartons.
Pillows can be packed in dresser drawers.
Phonograph records should be packed on edge in upright position (ask about our specially-designed carton).
Books should be packed on edge in a one or two cubic foot carton for easy handling (ask about our special book carton).
Tape cartons on the bottom (two strips) and top (one strip).
Cartons should weigh no more than 50 to 60 pounds.
Pack lampshades in cartons by themselves.
Do not pack cleaning solutions etc in the same cartons as food items or medicines.
Do not wrap linens, books, and lampshades in newspaper,as the ink will rub off.
Do not pack irons, kitchenware etc in same box as china and glass.
Do not pack heavy articles on top of shoes.They travel well in the bottom of wardrobe containers.
Remove the weights from grandfather clock before moving.
If you plan to do your own packing, start well in advance of the big day. This avoids last minute rush and stress.
Tie brooms, mops and curtain rods in bundles(ask about our special telescoping household utility carton–you'll be amazed at how much it will hold).
Consider wardrobe containers – each container will accommodate two linear feet of closet space, and are available in either full length or short. They are also perfect for packing draperies.
Have a garage sale – this will enable you to dispose of unwanted items and generate some extra cash, and there is less to pack as well!